Welcome to the Unofficial Marshalltown Bike Path Site.
(Linn Creek Greenbelt Parkway)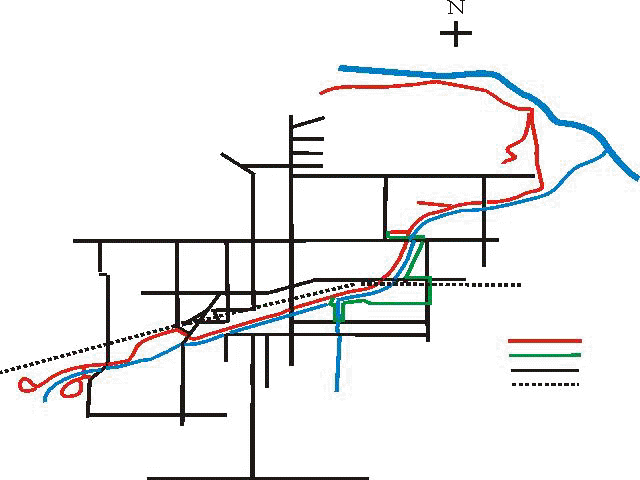 HOURS: Open Year Round, 6:00 a.m. -sunset

FEE No user fee required

TRAIL FACTS: Length: Approx. 6 and three quarter miles. Total miles: 8

SURFACING: Asphalt

RESTRICTIONS: Snowmobiling adjacent to trail along bottom of dike. No hunting allowed. Dogs must be on leash, electronic collar or under immediate control of owner. No motor vehicles are allowed on the path.

INFORMATION: Marshalltown Parks and Recreation Department, 803 North Third Avenue, Marshalltown Iowa 50158 (641) 754-5715
The Linn Creek Greenbelt Parkway is a six and three quarters mile trail built on the dike that runs along Linn Creek and the Iowa River. It links several Marshalltown park and recreation areas that provide a variety of outdoor diversions. Not only do the parks offer options for picnicking along the way, but several feature playing fields for team sports. At Riverview Park visitors can camp and use the swimming pool. Unique natural attractions can also be found along this greenbelt trail. The Nicholson Ford Nature Area features scenic views of river bottom timberland and marsh. Trail users can observe prairie grasses and wildflowers at the prairie area near the west end of the trail.
In addition to recreational opportunities, Marshalltown offers many historical and cultural attractions. For tourism information contact the Marshalltown Convention and Visitors Bureau, 709 South Center Street, Marshalltown, Iowa 50158 (641) 753-6645; or the Marshalltown Parks and Recreation Department listed above.
Click Below for construction photos of the latest segment of the bike path. These were taken in May of 1999.This new segment eliminates the alternate route (shown in green on map above) avoiding several street crossings and the railroad crossing.
These photos show the railroad underpass
These photos show the East Nevada Street underpass
These photos show the East Main Street underpass

Detailed Map Shows Street names and Trailheads.